Electric mobility offers an opportunity to reduce greenhouse gas emissions.
Our cities are making progress with this zero-emission strategy and we work hand in hand with them by designing and developing the necessary e-bus and e-BRT infrastructures.
We are backed by our experience in developing comprehensive comprehensive rail and energy projects.
Depot charging
Specific buses
Specific lanes with absolute priority
Ticketing out of vehicle
Opportunity charging
Traffic signal priority
Automated and adapted stations
Puntual services
Our expertise in the renewable energy sector means that we can combine photovoltaic solar energy generation with seasonal battery energy storage systems. Therefore, as well as contributing to the zero-emission strategy, we also increase energy efficiency of our solutions by reducing the electricity rates.
Developing renewable energy-based mobility solutions
We deal with:
Electric charging infrastructures.
Comprehensive e-Bus Rapid Transit projects.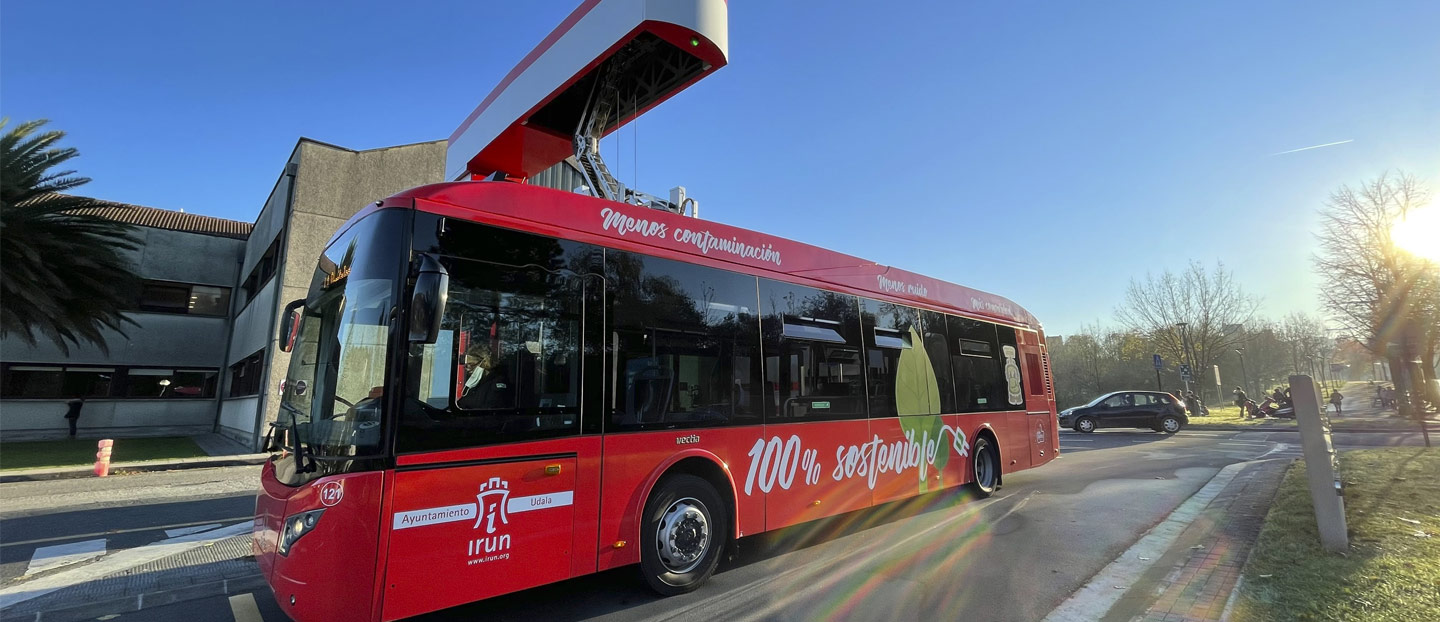 Electric charging infrastructures
Aware that transport is different in each town/city, we adapt our e-bus charging solutions to each specific situation.
To this end, we take account of the following:
The city's own constraints in terms of: weather, topography, traffic, ambient noise and the land availability.
Operating conditions such as: fleet capacity, the public transport system, route features, etc.
Fleet interoperability.
Town/City strategies and infrastructure plans.
To optimise our solutions, we perform ad-hoc analyses, simulations and studies beforehand. As a result, we are able to identify and examine all the items and requirements needed to develop our solutions.
We assess our clients so that we can implement the most suitable turnkey solution
We define the smartest charging strategy taking account of the following:
The type and power of the most suitable charging solution (opportunity charging or overnight).
The network capacity required for the charging infrastructure (connection optimisation).
The optimal location of chargers, considering charging capacity and speed.
Fleet operation strategy.




Comprehensive e-Bus Rapid Transit projects
We are experts in the design, management and development of infrastructures of this nature.
We have worked on similar projects and rely on a multidisciplinary team to respond to any requirements that may arise, whilst also:
Optimising resources.
Integrating all the e-Bus infrastructures.
Reducing any associated risks for these types of projects.
Keeping focused on deadlines, costs and quality.
Applying our expertise in energy to develop charging solutions adapted to specific e-BRT requirements.