We manage the intricacies of comprehensive projects to develop a turnkey solution that facilitates the path to smart and sustainable mobility.
CAF T&E's hallmark is working with an agile and streamlined process over the course of the entire lifecycle of projects, optimising resources and providing tailor-made solutions that are adapted to each specific case. To this end, our management system centres on projects and a spirit of ongoing improvement based on international standards (ISO 9001, ISO 14001, ISO 45001).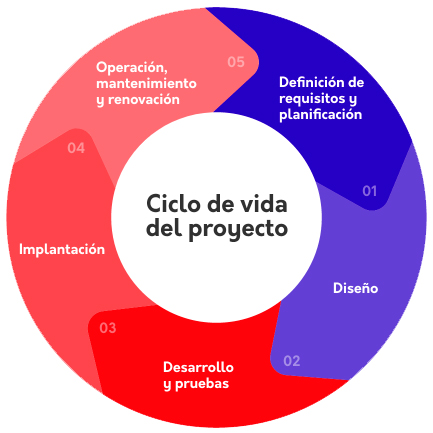 We engage our client from the project design stage, adapting to the requirements and challenges that may arise during the process.
We boast an international multidisciplinary team which covers all the needs and requirements that these types of projects entail, thereby allowing us to:
Optimise resources.
Foresee and minimise any risks associated to project implementation.
Guarantee system integration.
Conform to timing, budgetary and quality goals.
Tailor made solutions


Integration
On assuming complete responsibility for the project, we guarantee meeting deadlines, costs and the required quality of our work.

Qualification
We have a workforce of over 700 specialist professionals working on comprehensive mobility projects. We specialise in developing comprehensive mobility projects, guaranteeing state-of-the-art technology, safety and environmental sustainability solutions.

Experience
We are backed by over 100 years of international experience in providing these kinds of solutions.

Bespoke solutions
We provide our clients with tailor-made solutions. Each case is different, as it each solution.

Optimisation
Our solutions are designed to optimise the cost of the lifecycle of our infrastructures, both during the construction stage and the operation and maintenance stages.

Agility
We have the perfect organisational structure to undertake projects in an agile fashion, providing answers and meeting our clients' requirements in both a flexible and precise manner.