The weather can be a decisive factor when it comes to carrying out work in the field, and even more so in the case of a class 4 cyclone with wind speeds of 150 km/h. Cyclone Batsirai hit hard on 1 February, bringing the island to a halt with power outages and no drinking water in homes.
"Cyclones are common between January and March, although it has been various years since the island was last hit by one of this magnitude," said Ander Montes, our Mauritius Metro Express project manager, who has been working on the project since it was launched in 2018. Montes went on to add, "Torrential rains are more common at this time of year, which often complicates carrying out work in the field".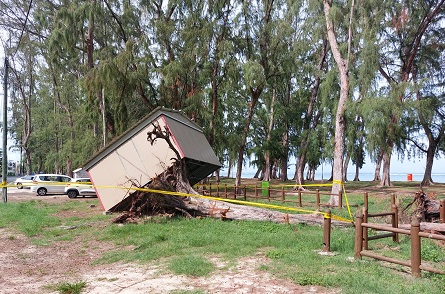 The effects of the cyclone Batsirai are still visible in the city.
To overcome these types of unexpected circumstances, our project manager said that, "Planning work always includes a buffer or time cushion". Aside from this, he says, "the commitment, flexibility and proactive approach of the field engineers in coordinating and managing the work performed by the different local subcontractors will be there to prevent this type of situation from causing project delays".
As a result of this, once Batsirai finally decided to leave the island on 4 February, our team got to work as planned, installing the signalling and TSPS systems at the Phoenix station and the crossings on St. Jean Avenue, the main thoroughfare in Quatre Bornes. The goal is to start testing and commissioning our systems in the last week of February and have everything ready so that the penultimate 4km section of the line, from Quatre Bornes to Phoenix, can be inaugurated at the end of March.
Having good planning and a flexible, committed and proactive team is key to facing any type of unforeseen event in a comprehensive project.
On completion, the CAF T&E team will start work on the final section of the line that will run to Curepipe. The latter is expected to be into operation by the end of the first half of the year. In the meantime, design work has already begun on the newly awarded 3.5km extension project running from Rose Hill to the University of Mauritius (Reduit).